TBAR Store 
All donations are tax deductible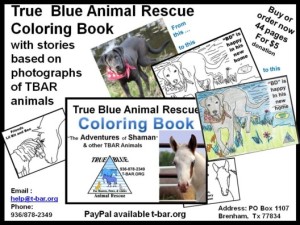 Donation of  only $5.00 each
+ $4.95 S/H (per 3 books)


Horsin' Around the Kitchen
A True Blue Animal Rescue
Recipe Book (Second Edition)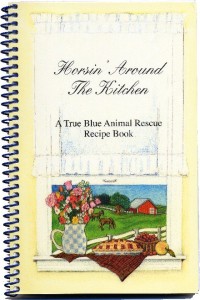 Includes tasty recipes for:  Appetizers, Beverages & Dips, Soups & Salads, Breads & Brunch,  Vegetable & Side Dishes, Main Dishes, Vegetarian & Vegan, Desserts,  and Pet Treats
Donation of $12.00
+ $2.25 S/H (per 5 books)

T-Bar Magnet
Show your support for the animals as you drive around!
Donation of  $6 + $2.00 S/H 
Spay/Neuter  Magnet
Great for your car!
Donation of  $5 + $2.00 S/H 
DogGone Songs
Traveling Tunes for You and Your Pet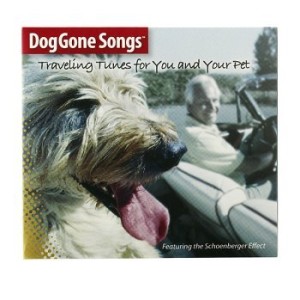 Because a road trip doesn't always mean fun for your pooch, Doggone Songs: Traveling Tunes for You and Your Pet is made to calm his canine spirit. Using the Schoenberger effect, a musical methodology shown to relax animals, this CD helps reduce the anxiety sometimes brought on by car travel and also may decrease the stresses of being away from home. Stimulating your dog's brain through audio enrichment, this CD is ideal background music to increase focus during training sessions. Designed for all breeds, sizes and personalities, it runs for 46 minutes.
"Great for creating a calm, relaxing atmosphere in your car – for you and your pets. Tried it on my dog and a TBAR foster dog, Teddy, in the car; and we all loved it!" – Lauren
Donation of  $13 + $2.50 S/H 
Send checks and donations to:
True Blue Animal Rescue
PO Box 1107
Brenham, Texas 77834
All donations are tax deductible.
SHOP AT THESE ONLINE STORES AND SUPPORT T-Bar

www.countrysupply.com 
Using their special 'TBAR' Country Care code when you shop means that
Country Supply will donate 5% of your purchase to T-BAR.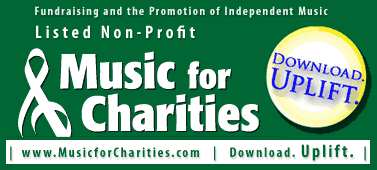 Art Auctions on eBay that benefit TBAR

www.igive.com
Shop Here and support T-Bar!

TBAR Store IS NOW on EBay
Shop for a Cause!
Copyright © 2012 True Blue Animal Rescue. All Rights Reserved.
PO Box 1107 Brenham, TX 77834 USA help@t-bar.org 936/878-2349