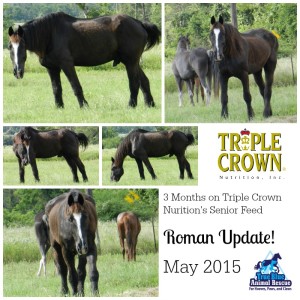 Has anyone been wondering how Roman is doing? Here he is May 17, 2015, almost four months after coming into True Blue Animal Rescue. He's gotten lots of love and attention from TBAR volunteers Alissa Cannon and Amy Hemsell. He's had the pleasure of meeting children who come out on camp days too! The "oohs" and "ahhs" when this big boy is walked out to meet them was priceless. He gives us the chance to teach kids about rescue, proper feeding and dental care for senior horses and having the farrier out to trim up his hooves so they don't crack and hurt. Coming from a giant like this Percheron boy, this makes a big impact with the kids. He is a senior, but he's still got a lot to give in his new roll as a TBAR horse ambassador.
If you look at his pictures you will see that he has gained a lot of weight since coming to us at the
end of January
. A great big thank you for
Triple Crown Feed
for donating their
high quality senior complete feed
to help him through his rehab. As you might imagine, a big horse like this can eat a lot and even more when trying to get him to gain weight. He's still got some more weight to gain but the improvements in this short amount of time is amazing! As you can see his coat is shedding out from the reddish color to the slick, shiny black that it was meant to be. When getting the right nutrition in Triple Crown Feed they get everything they need to be slick and shiny! All Roman has to do now is eat, swat flies and enjoy life.
Thank you to TBAR volunteer Alissa Cannon for being his special sponsor human. She's helped us afford his farrier work, hay and worming.
Author Profile