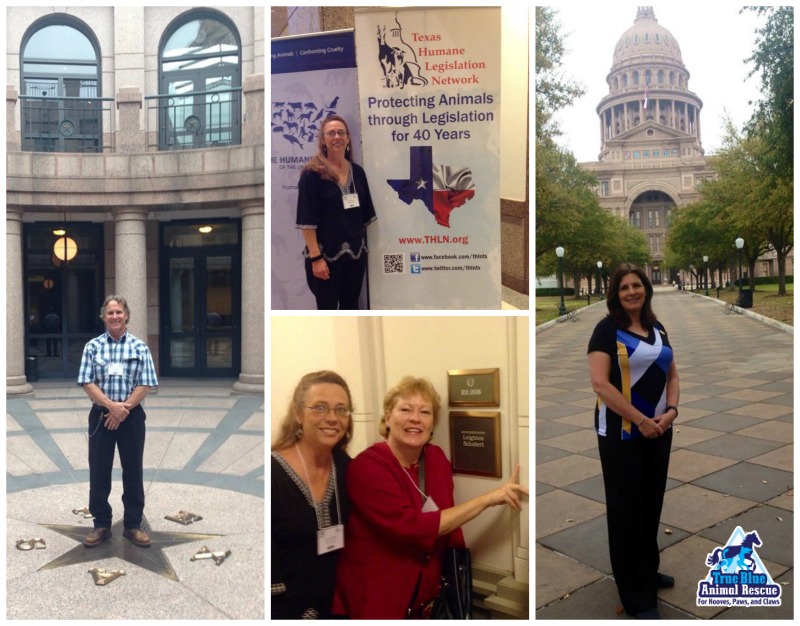 Four members of True Blue Animal Rescue went to Austin for Texas Humane Lobby Day on March 20, 2015. This event was hosted by The Humane Society of the United States, the ASPCA and Texas Humane Legislation Network (THLN).  Melanie and Dale DeAeth, Janna Alsobrook and Gisele Flanigan attended the morning seminar giving them advocacy tips and an overview of the bills we were targeting that day. There were nearly 100 activists from all over the state of Texas preparing to speak to their district representatives.  Our four True Blue Animal Rescue members met with District 13 Representative Leighton Schubert's Chief of Staff Manny Salazar at 1pm and then with Senator Kolkhorst or District 18's policy analyst Zach Maxwell at 2pm. We each explained the importance of the four bills we were targeting in hopes that they will offer their support and vote in favor of them.
The first bill we discussed was Dangerous Wild Animal Registry – HB 3952. This bill requires people and organizations who keep dangerous wild animals in Texas for more than 30 days to register their animals with a state agency – namely the Texas Department of State Health Services. This law will offer a means of informing the public of were animals such as lions, tigers, cougars, leopards and primates are living. These animals are wild and they can be dangerous so the public is entitled to know where they as a safety measure.
The second bill we discussed is the Humane Tethering Bill – HB 2562. This bill does not prohibit tethering but it sets forth clear and specific requirements for the humane tethering of a dog and provides law enforcement and animal control officers the authority to enforce those requirements.  Texas law enforcement officers receive daily calls from citizens concerned about a dog being tethered by cruel and inhumane means. This bill is a rewrite of the current tethering law and replaces it with this straight forward, enforceable understandable law outlining specific requirements for tethering a dog as follows:
The tethering device must allow the dog access to a shelter of adequate size to allow the dog to stand, turn around, sit and lie down in a comfortable and normal position and it must be constructed in such a manner as to keep the dog dry and protected from exposure and extreme temperatures.
The tethering device must also allow the dog access to potable drinking water and shade from direct sunlight.
The tethering device must be attached to a collar or harness constructed of nylon, leather or similar material properly fitted to the dog and must have swivels on both ends to prevent the dog from becoming entangled.
The length of the tethering device must be at least five times the length of the dog as measured from the tip of the dog's nose to the base of the dog's tail or ten feet, whichever is greater.
The tethering device cannot be made of metal chain links more than a quarter inch thick or have any weights attached to it.
The current law allows for inhumane tethering except during the hours of 10pm to 6am, in a location within 500 feet of a school, weather below 32 degrees or during a heat advisory or storm warning. The biggest fault to the current law is that law enforcement has to give the owner 24 hours to correct the problem. In this way it's corrected and then in several days generally goes back to the same inhumane situation. To our knowledge, a citation under this current law has never been issued and / or heard by a court.  Under the new law the offence will be punishable as a Class C misdemeanor for the first offence and a Class B misdemeanor for subsequent offences. In this way law enforcement will be able to do their job and offenders will stop this inhumane treatment of dogs in Texas bringing us closer to the minimum standard as set by many other states in our country.
The third bill we were discussing is the Peace Officer Canine Encounter Training – HB 593/SB 1637. As we know dogs are an integral part of American Society and law enforcement routinely encounters dogs in the line of duty.  In fact, one of three calls to law enforcement involves an interaction with a dog. Despite this statistic the vast majority of law enforcement officers have no training on canine encounters before entering the field. This lack of training creates a critical void in traditional law enforcement training and safety for the officer, the dog and the public. This lack of training is the primary reason why so many dogs are killed by law enforcement officers. On a weekly basis the media headlines horrific details of a canine family member being killed by law enforcement. There were 200 fatal dog shootings by law enforcement in 2014 that were reported and  many more that went unreported. This bill requires a one-time training course for law enforcement officers to prepare them for a safe, non-confrontational outcome when encountering a dog. This will allow officers hands on training and information on how to protect themselves, the residents and the dogs they encounter. This bill does not prohibit officers from using deadly force against dogs to protect themselves or others; it only requires training so that shooting a dog would be the last resort.
The final bill we reviewed and discussed was Eliminating the Shark Fin Trade in Texas – HB 1579. This bill will prohibit the sale, trade, purchase and transport of shark fins in Texas. The fins from up to 73 million sharks are used to supply the global shark fin trade each year. Shark finning is when a shark is brought on board, the fins are cut off, often while the animal is still alive and the living shark is thrown back into the ocean. With their fins cut off, sharks cannot swim and can die from shock, blood loss, starvation or predation by other fish. The demand for shark fin soup drives this market. Shark meat is considered low value and therefore not worth transporting the whole fish body to market. Shark fins are removed from sharks regardless of age, size or species. Shark finning is devastating the shark population around the world. Experts estimate that within a decade, most species of sharks will be lost due to shark finning. Under the bill, fishermen can still sell entire shark carcasses, with their fins still attached, to the dealers and processors. For more information on Shark finning visit Sharkwater.com.
Law making happens every other year on odd years in Texas. Take this opportunity to be heard and help change laws to protect animals. Please contact your district representatives and let them know that you are a voting constituent and you would like them to vote to pass these bills. To find out your district representatives go to "Who Represents Me" and search by address, zip code, city or county to find out who you should contact.
You can also join the Facebook Page for the Texas Humane Legislation Network (THLN) to stay updated on these bills and future ones.
Author Profile