TBAR Receives Hay Grant from ASPCA
 $5000 toward feeding horses for 3 months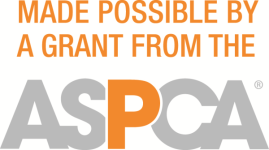 Washington, Texas — True Blue Animal Rescue (TBAR) announced today the award of a $5000 grant from the ASPCA to assist with hay costs.
"This year TBAR lost its primary hay donor.  In addition, we had an influx of horses whose owners could not support them as a result of the droughts." said Melanie DeAeth, TBAR President. "This grant will allow us to feed our 40 on-site foster horses through the rest of the winter."
For the previous eight years, TBAR had been the recipient of a large hay donation that fed the TBAR horses and allowed them to operate all winter long.  TBAR reports that they usually need 200 round bays of hay a year.  In the winter they use around 30 bales a month (they need less in the summer months due to the grassy land the horses have access to), and one bale alone feeds just four horses a week. This donation from ASPCA bought 66 bales of hay, roughly one-third of what is needed in the winter.  TBAR reports that this donation will get them through the rest of the season.  The other two-thirds of hay needed was purchased with money donated from TBAR supporters.
About True Blue Animal Rescue: TBAR is a 501(c)(3) non-profit organization and is a no-kill animal rescue located in Brenham, Texas.  If you would like to help their cause please consider donating, fostering or adopting.  Every little bit helps us to help another animal in need of safety and rehabilitation.  Save a life: adopt instead of shop and spay or neuter your pets!
Author Profile
Latest entries