Sponsors /Special Thanks /Honorifics and Memorials :
Lifetime members
Evelyn Bench
Robert and Diana Bender
Carol Schertz
George and Adele DeTitta
Kathy Parker
Rama Santschi
Elizabeth and C.L. Gildroy
Mark and Carol Jensen
Jody and A.W. Goodson, Jr
Mrs. C.A. Whiteford, Jr
Roger and Leigh Scott
Betty Dooley
Sandra White and Kenneth Welsh
D. Ann & Gary Komar
Cheryl Craven
Mr. and Mrs. Edwin Schmid
Nancy and William Gardiner
Susan Brown
Lauren Lynch
Sara Spencer
Suzy Simar
Lisa Allen
Diane Deitz
Leigh Scott
Supporting foundations
Charles Jago Elder Foundation
BetsWest Foundation
Coastal Securities Fund
Grants
Monthly donors
Fran Brokmeyer
Jim Moore
Cecilia Freeman – Horse Sponsorship
Louis Garcia III
Larry Baker
Rebecca Durda
Sharon Schneider
Deborah Siegele
Angie & Dave Abt
Nancy Daleo / Three Legged Dog
Memorials
Sandra Delgado from Mr. and Mrs. Ed Eleazer Jr
W.J. and Inga Pazka from Carol Schertz
Horse named Dutch from Kathy Lang
Barbara Beerwinkel from Alice Stern
Genevieve Giles from Luanne and Martin Coles
Gladys Jaeger from Luanne and Martin Coles
Apache Blue from Susan Brown
Sadie Girl from Daryl Peel
Carolyn Little, mother of Lynne Holder from Douglas Snyder
Van, Megan & Scamp from Janet Rose
Harley & Buddy from Leigh Scott
Honorariums
Lori, JD and Eliot Murphy from Rama Santschi
Mia, a very sweet dog and good companion from Dr. and Mrs. Wilbert Brown, Jr
Diana Hodde from Terry Boeker
Jana Lynne Ahlers from Dee Treece
Random & Row Kittens from Casey Radcliff
Community Support
United Methodist Women of First Unit-ed Methodist Church
Greater Houston community Foundation
Horse Trainers who donate their time
Juan Vendrell of TC Ventures
Chili Cookoff Event
Special Thank you to Yankees for holding the event
Heather Baran – IHD for coordi-nating the event
Chili Appreciation Society Interna-tional for sponsoring the event
C & B Gift Shop
Bluebird off the Square
Must Be Heaven
Park Street Bakery
Chili's
Blue Bell Creamery
Brenham Produce Co
Tractor Supply Co
Lowe's
Spec's Liquor
Amy's Pet Sitting of Brenham
Chappell Hill Bakery & Deli
Puppy Dawgs & Cat Tails
Brenham Vet Hospital
Dan's Meat Market
Radio Shack
Lowe's
Custom Pest Control
Westwood Cinema
Home Depot
Olive Garden
Red Lobster
Paolo's Italian Kitchen
Abuelo's
Chuy's
Steinhausers
Los Cabos
Dumas Walker
Philips Vet Hosp
The Ranch Harley Davidson
The Home Depot
Target
Windrose Golf Club
Pet Supplies Plus
Cinemark Movies
Kristen Distributing
The Village Cafe
Marilynn Wrigley
Fresh is Best, Companion Natural Pet Food
Doug and Patti Tucker
Floozie Koozies / Alecia Arnold
Mary Francis
West End Elixir
Dr. Kaiser, Family Dentist
Scentsy By Simone
Dean & Nancy Heard / Guest House on Washington on the Brazos
Smitty's Cafe & Bakery
III Stephens, Inc, Michelle Winkelmann
Gail Baker
CASI
Mike & Tammy Pulkkinen
Heather Beran
James and Linda Taylor
Donations for a specific purpose
Donations for animals effected by Hurricane Harvey
Sarah Webster
Kelly Bolick
Lynne Larkin
Ann Brier
Renee Lande
Brian Ross
Craig Smith
Nancy Webster
Joan Poerschke
Vicki Cafarella
Bennetta McGraw
Tana Shaffer
Ted Hemmer
Rhonda Blaschke
Julie Wright
Teri Van Horn
Deborah Sutherland
Nancy McQuistion
Steve Recla
Shelli Schmidt
Marla Eurick
Gina Leatherman
Kelli Jordan
Lisa Allen
Angela Abt
Jennifer Macallister
Danielle Cecala
Denise Martin
Cheryl Harris
Diane Deitz
Items for animals effected by Hurricane Harvey
Aggieland Animal Shelter – pet food and crates
Peach Pit Ranch LLC – hay
Diane Holt – hay
Mark and Shelli Schmidt – hay and pet foods and supplies
Dan and Leslie Matula – hay
Tractor Supply Co in Brenham – pallet of food
Tractor Supply Company – gift card
The Feed Barn in Navasota – feed dis-counts
Beard Navasota Vet Hospital – wraps and bandages
Brenham Vet Hospital – wraps and bandages
Ryder the dog
Ginger the horse
Captain the horse
Cheryl Zientek
Linda & James Taylor
Marsha Chappell
Bonnie Parsons
Francesca the senior dog
Richard and Barbara Baskerville
Shelli Schmidt
Stray Puppies on FM 1155
Hurricane Harvey Dogs sponsorship
Linseisen's Feed and & Supply of Bell-ville, L.P.
Miracle the horse
34 Horses
One Eyed Jack the horse
Hurrican Harvey Dogs kennels and dog houses
Teresa James
Cheryl Harris
Lynne Larkin
Laura Knizner
Shari Mchenry
Jenni Skaug
Angie Abt
Janie Edwards
Deborah Sutherland
Lani Richerson
Stella the dog
Anne Currie
Shelli Schmidt
Donated to help put a roof over the dogs
Diane and Steve Holt
Robert and Diana Bender
Fairmount Santrol
Mr. and Mrs. Nelson White Jr
Carol Schertz
Greater Houston Community Founda-tion
Luanne and Martin Coles
Elizabeth Hewett
Angie and Dave Abt
Mark and Shelli Schmidt
Brett & Carolyn McCully
Dee Treece
Kelly Saunookw
Lauren Lynch
Melanie and Dale DeAeth
Dorcas Jenkins
Jan Redden
Janie Edwards
Kim Oliger
Janet Rose
Woods Christopher Woods
Sandra Taylor
Ann and Tom Brady
Val Darlington
Karlene Martella
Andrew Moore
Shay Morrow
Fran Brokmeyer
Nancy Gardiner
Anne Moeller
Dave Brown
Leigh Scott
Cherry Craven
Cher McHan
Tracy Medack
Jeff Paul
Connie Hill
Michelle Sweet
Rachel Finke
We try very hard to list and acknowledge all honorariums, memorials and event sponsors but if we have inadvertently left one out or posted incorrect information, please bring it to our attention and we will rectify the error.
ASPCA Donations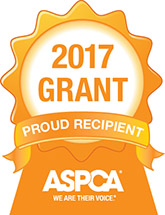 For horse vet bills and to help community members care for their animals. Learn more.