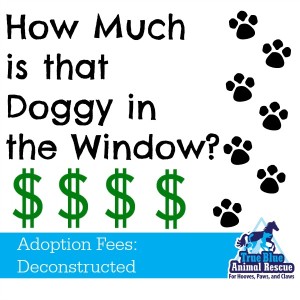 As of Feb 1st True Blue Animal Rescue's adoption fee for dogs has gone up from $110 – $125. Our adoption fee for cats i $75.
We have had some questions about why we charge this amount, so we wanted to share that information with you today.
Our adoption fees include spay/neuter, rabies vaccinations, distemper/parvo/lepto shots, flea treatment, heartworm testing and heartworm preventative and deworming.
We use low-cost clinics, most commonly Animal Friends of Washington County or CCC Clinic in Bryan. We have also used Petworks Express in Houston, Abandoned Animal Rescue in Tomball and KAAWS Clinic in Houston as their prices are all comparable. Remember, if you get a "free" pet you will need to pay all of this, and if you don't go to a low-cost clinic the fees will be higher.
DOG VET FEES
Spay or Neuter
0-39 lbs – Spay – $75; neuter – $60
40-59 lbs – Spay – $90; neuter – $75
60-99 lbs – Spay – $100; neuter – $95
100 lbs and up Spay -$125; neuter – $120
Rabies Vaccinations: $12.50
DA2PPLv – $17.50
Heartworm Test – $20 (dogs over 6 months)
Fecal Test – $15
Skin Scrape – $15 (often needed)
Wormer – $10
Heartworm preventative – $5 per month
Exam: $10
Flea Treatment: $5
Total Vet Costs for Dogs:
$150 minimum for the smallest male dog and
$165 for the smallest female to
$180 for a large dog under 100 lbs.
Note: Fee can increase as this doesn't include a possible follow-up skin scrape and treatment if the dog has mange, and it also doesn't account for the fact that puppies need two more booster shots
CAT VET FEES:
Cat Spay: $60 or Cat Neuter: $40
Feline Triple Test for FeLv/FIV/HW – $30
FeLv – $18.50
Rabies: $15.50
FVPCP – $17.50
Fecal l- $15
Wormer – $10
Deflea – $5
Total Vet Costs for Cats: That's $151.50 for male cats and $171.50 for females
Right now TBAR is unable to rescue many cats, as people balk at the $75 fee (when it's so easy to get a "free" kitten). The sad thing is, people fail to properly vaccinate and vet their kitten.
It is important for us to get donations, run fundraisers, and apply for grants to keep our vet bills down. If we depended on our adoption fees to recover our costs for each animal we would have a very hard time finding people willing to pay the fees (especially when we have an animal that needs more expensive rehabilitation care). We hope this information is useful when thinking about getting a new pet, whether a "free" one or one adopted from a shelter or animal rescue.