Demi – 9 month calico girl
ADOPTED – Thank You!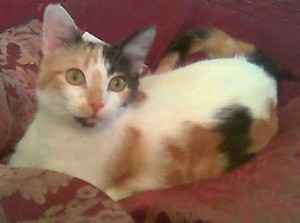 To outsiders, Demi's life in foster care probably seems like an idyllic fairy tale. But Demi feels more like Cinderella. Even though she lives in a nice home/castle and her basic needs are cared for, Demi has evil step-sisters and brothers (cats) that are mean to her. They don't accept her, so poor Demi has to stay in her room except for when the step-siblings leave the house for a while. Demi longs for her own home where she can live freely to love and be loved. She promises  to follow you everywhere, take naps in your lap, sleep on your bed, and purr really loud to let you know she's happy. Demi knows she's special because she was born with a perfect orange heart on her right shoulder. She is a petite 9-month-old calico; white with big patches of orange & black on her head, tail and left side. Already spayed and vaccinated, Demi is waiting for her fairy tale ending – a forever home. For more about Demi, contact TBAR at 936- 878-2349
Cole –  ADOPTED – Thank You!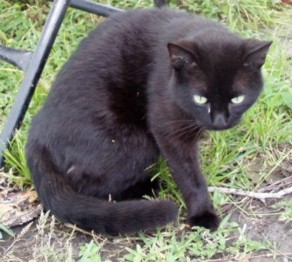 Two year old black boy with white spot on his chest and on his belly. Cole is a sweetheart even though he's been an outside cat his whole life. He loves to be pet and scratched and even comes when called. He's neutered, FIV/FeLeuk negative, had his shots and is ready for his forever home.  
Max @ 6 months – ADOPTED – Thank you!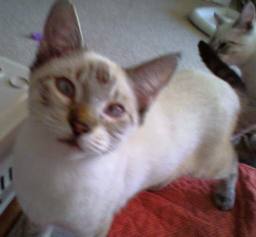 Max is the smallest of the 3 boys;  and likes to be held like a baby if you scratch him on his chest. His coloring is a cross between Seal and Lilac Point. He purrs very loudly when given love.  All of them impress the vets and their helpers with their personalities.