Jack Black – 11 month old black cat as of June 2010
ADOPTED – Thank You!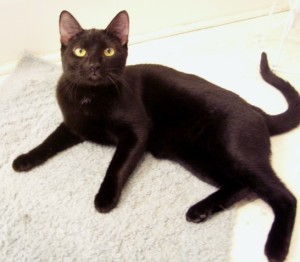 Vaccinated and spayed/neutered. Black Jack is a short-haired, very shiny and sleek, black cat. He's not all black because he has 10 white hairs on his chest and a couple on his back – go figure! He has beautiful yellow eyes and a great purr. He's a little shy at first, but given time to warm up to you, he's a cuddler!  He gets along great with big dogs and with other cats. No risk involved – you win with Black Jack!
SYBIL – April 2010 – pictured at 18 weeks
ADOPTED – Thank You!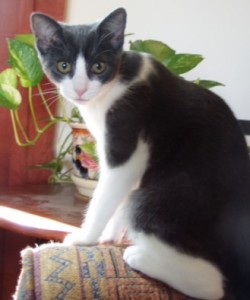 Beautiful Sybil loves to romp and play. When her playtime is over, nothing makes her happier than crawling up on your chest and enthusiastically purring while you pet her until she drifts off to sleep; content just to be with you. Sybil also enjoys playing with her siblings and with fluffy mouse toys and ping pong balls. She is a very sweet kitten and would be a joyful addition to your family. Sybil is an exquisite deep gray & white short-hair kitten with the most appealing markings! At 19 weeks of age she is spayed and ready for her new home with a special person who will love and care for her always. For more about Sybil contact TBAR at 936-878-2349
SCOTTY  pictured at 11 weeks
ADOPTED – Thank you!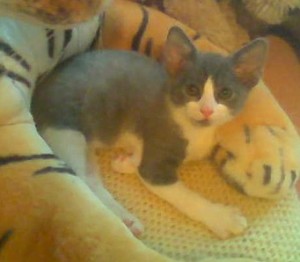 Scotty looks a lot like Sybil, but has a gray spot on his chin and an all gray tail. Scotty has been neutered. He is the first one to greet you when you walk in the room and jumps into your lap and purrs. He's more interested in loving now then playing. He's a little bigger than his two sisters, but still adorable! 
 PRECIOUS pictured at 8 weeks
ADOPTED – Thank you!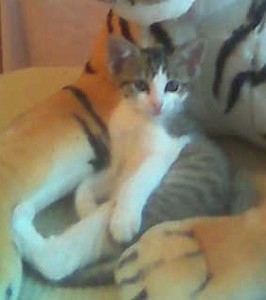 Precious has wonderful 'eye-liner' markings on her race and a white-tipped tabby colored tail. She and Sybil are the same size and love to play together. Precious has a wonderful purr and will eventually fall asleep on you. 
 Lexi – ADOPTED – Thank You!
7-8 month old black kitten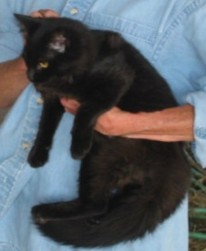 7 Week old Black Kittens – ADOPTED – Thank You!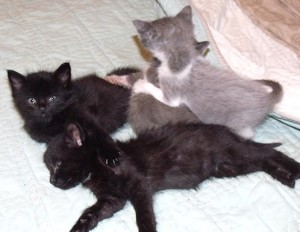 It's true you can't buy love – but you can certainly adopt it. These precious orphaned kittens (four of six total) are in desperate need of homes. Their lives were saved thanks to loving bottle-feeding by a True Blue Animal Rescue (TBAR) staff member, and they are now on wet food and ready for their forever families. A kitten in your home is a joy to behold, and having two kittens who can play with each other is more fun than you can imagine – so TBAR is offering your choice of any one or two kittens for a single adoption fee. They are about 7 weeks old and are sweet, affectionate, and well-socialized. They come with all their shots and a certificate for free neuter or spay. Save a life and adopt instead of buying a pet. For more information call 936-878-2349.