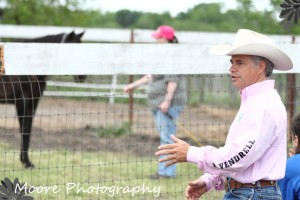 Reserve your spot for our 2017 Spring Horse Training Clinic with Juan Vendrell! March 25th from 10am – 4pm
1/2 day groundwork and 1/2 day riding.
$100 for non-members
$80 for TBAR members
$25 for auditors all day
Please bring lawn chairs for sitting. Clean coggins required for all horses attending. Cost includes sandwich, chips and drink lunch.
Juan Vendrell of TC Ranch Horsemanship will teach Natural Horsemanship methods in roundpenning, desensitizing, haltering and saddling horses. Juan works with Alfonso Aguilar, Participated in the Extreme Mustang Makeover in Ft. Worth, TX where 5 – 6 year old mustangs are trained and shown and The Horseman's Reunion in Paso Robles, CA, where twenty horsemen such as Martin Black, Chris Cox, Craig Cameron or Buster McLaury start forty colts in six days.
Juan holds clinics in Europe and the United States.