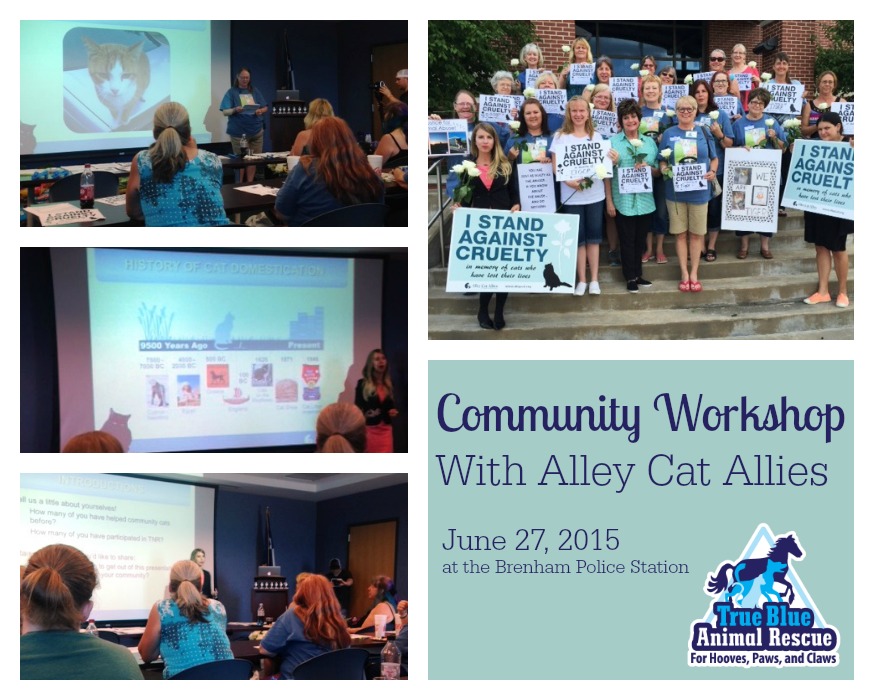 True Blue Animal Rescue hosted a free seminar to educate the community about how to help cats while controlling the population on Sat June 27th.The group picture was taken at the end of the event to show unification of rescuers moving forward to humanely care for animals in our communities.
Representatives Liz Holtz and Hannah Shaw from Alley Cat Allies out of Maryland flew in to teach us what they know and help us begin a successful Trap, Neuter and Return program in our community. Alley Cat Allies brought facts from studies showing that programs such as these are the only way to control the cat population. Cats have been living in our communities for hundreds of years just as raccoons, squirrels, possums and skunks do. They do not damage, harm or attack humans and their property. As natural hunters Cats help control rodent and snake populations in rural communities. The population can get out of control but killing them or removing them does not solve the problem. When one leaves, another will come and take it's place. They can be controlled through Trap, Neuter and Return programs. They will be vaccinated when they are fixed and ear tipped so you'll know which cats are done. Once they are fixed and returned they are no longer breeding, fighting, multiplying and they are disease free and vaccinated. They will stay in their own colony and live peacefully among the other animals and humans. We ended the seminar with Amy reading Tiger's story so we wouldn't forget him and would carry on to help other cats in his memory.
This program will take manpower and money. True Blue Animal Rescue volunteers have begun the process for our community and we started a fund called Tiger's fund so we can pay to spay, neuter and vaccinate all the cats we'll be helping. If you'd like more information go towww.alleycat.org or www.t-bar.org If you'd like to help in Washington Co or your community email h[email protected] or call 936-878-2349 and we'll tell you how!
Watch TNR video: