June 9 Update:
Skin scrape came back negative so we get to hug and love on her now! Hooray!
She got her rabies shot and more medicine for her eye too. When she goes in to get spayed in a month Dr Panko can fix her eye which healed split causing the lashes to keep irritating it. He'll check for mammary tumors then too but after palpating them he thinks it's just callus related due to having mange for all these years. 10 years is a long time to suffer. Please don't look the other way, help an animal in need if you see them suffering. No living being deserves to suffer and animals can't get help unless we step in. Be a doer in life, not a by-passer.
June 8 Update:
Francesca got another medicated shampoo bath yesterday. Now we're off to the vet today to check her skin and see if she's mange free. She's much more comfortable than she was in the streets but she still has that stray dog walk and stance where she seems to be looking in every direction to make sure she's safe and nobody is going to hurt her. I can't wait till she finally realizes that she's safe and can be content for the rest of her life. Please donate toward Francesca's vet bill at www.t-bar.org or PO Box 1107, Brenham, TX 77834. She still needs shots, spay and biopsy's on her mammary tumors.
June 1 Update:
It's been a week since Francesca came to us. She's been to the vet and was prescribed doxy and ivomectrin to fight the mange, heartworms and skin and eye infection. She is better but she didn't get this way overnight so it's going to take some time for her to fully recover. We'll take her back to the vet next week for another skin scrape and check up. Hopefully she can get her shots then too.
She was living in a depressed area with a large stray population where residents don't have the means to take them all in, so they feed them in place.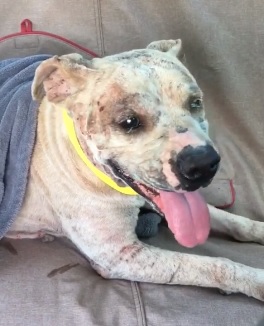 She has sarcoptic mange, an ulcer in her eye and skin infections, but she will fully recover. We're treating her for all of that and then we'll go back for shots and to check for tumors and get her spayed. She is off the streets for the first time in 10 years. If you'd like to donate to her care you can donate through Paypal or mail checks to:
True Blue Animal Rescue
PO Box 1107
Brenham, TX. 77834