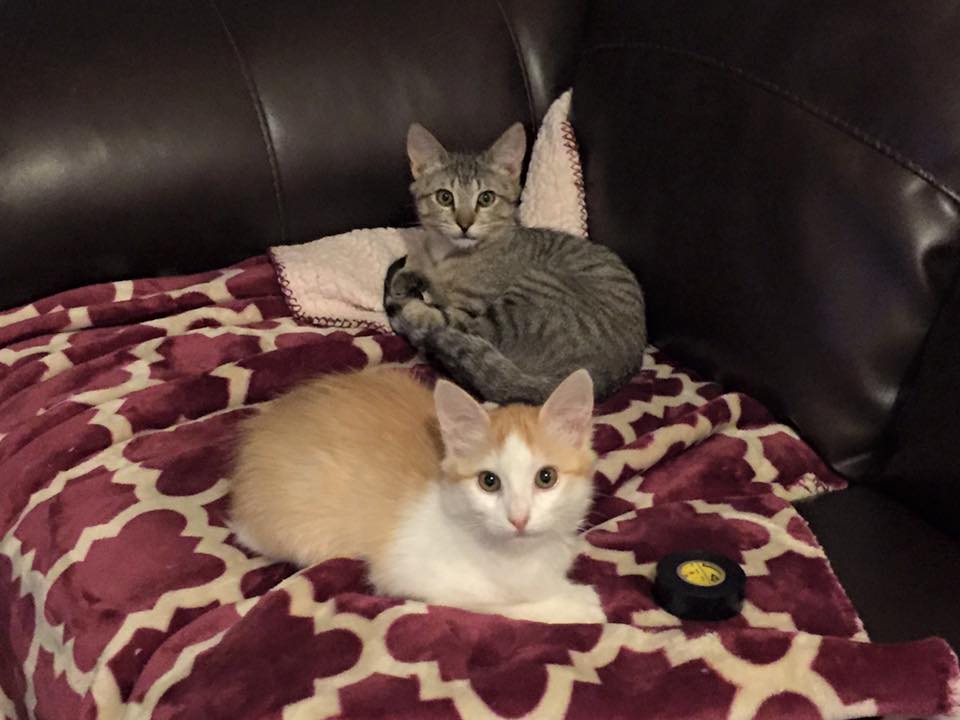 Do you like kittens?
Princess Leia is a beautiful orange and white little girl with a rambunctious personality, while her brother, Luke, is an adorable brown tabby boy who prefers to elicit pets from his foster parents and chase his sister around until itâs time for supper. Leia has a very soft coat and enjoys pets almost as much as she enjoys pouncing on her brother when he's not looking.
Little Luke and Leia were both rescued during Patricia's post-hurricane storms that hit Texas this past October when they were just a couple weeks old. They were found in a loading dock of a Church building in College Station, hiding in whatever they could find that provided shelter from the rain and winds of Patricia. Leia was soaking wet and freezing cold when she was caught by her now foster mom. She cried the entire way home and barely moved from her dryer-warmed blanket. Once she was dry and warm, her personality began to blossom and she realized how AMAZING pets feel! It didn't take her long to feel at home. Luke on the other hand found his way to the feral cat shelter his now foster-mom set up to keep the babies, who were too smart to be trapped, warm and dry during the storms and flooding. Being the smart little boy he is, he was warm and dry in the shelter; however, it made it too easy for trapping. Soon enough, he was now in his new temporary home and reunited with his sister.
Though these sweet babies were born feral, they were trapped at such a young age that they got to learn the luxuriates of the spoiled, indoor life and quickly adjusted to their new human foster parents and the warm, dry home they never knew existed! Now these two are looking for a furever home that will continue to love and care for them as cherished family members so that they never have to feel as cold and miserable as they did when they were just weeks old.
For more information, please email [email protected] or call (936)878-2349 and leave a voice mail. A TBAR volunteer will return your call at their earliest convenience. If you would like to adopt an animal, please download and submit via email or regular mail an adoption application (www.t-bar.org/about/forms) so that the foster home can arrange a meet and greet with your family.