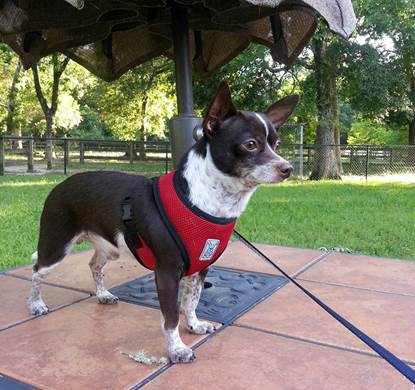 By Linda Taylor:
In our 2014 Newsletter Olivia Moore talked about how rescue is like a roller coaster.   "Rescue work can be a roller coaster. No, it can be a full-on amusement park! An amusement park, complete with a Ferris wheel, carousel and a haunted house. "
She touched on the different aspects of rescue animal jobs and the emotional rides we take as officers, staff, and volunteers with any animal rescue organization.
So, I am here to clarify this roller coaster ride of emotions as I, yet again, become a foster failure. Sending one of my last fosters to a permanent home tore me up as I had bonded to Joanie, a terrier/dachshund mix with a litter of puppies that we fostered.  So I vowed not to foster anymore – letting them go was just too hard.
And then the call went out on Social Media for yet another little face.   A Chihuahua mix named Dobby entered our front door as a scared owner surrender that was "labeled" at a shelter as a "biter". But, at about 8 pounds he didn't look like a bad. little guy.   We were just supposed to transport from shelter to another foster home.
… And then he got sick,  possible distemper.   So he would stay with us for the isolation period
… just inside our front door entry way,  where we could isolate him from our other dogs.
…just inside    … just inside my heart.  
It turned out to be kennel cough  – a bad case of upper respiratory infection.  As we nursed him back to health and we worked him through some of his issues,   I realized I couldn't let him go.
He has now bonded with my two other rescue Chihuahua mixes and sometimes all three will puppy pile in one of our laps to watch TV.
James and Linda – foster failures.
Dobby wins a new permanent family!