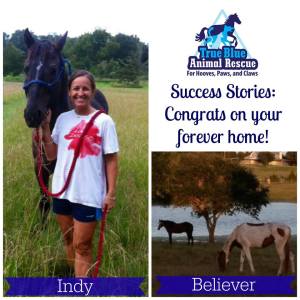 Here are our recent success stories, Indy and Believer!
Indy just got adopted last week. You can see him here with his new mom (don't they look happy together)! Indy was one of 57 horses taken in through law enforcement due to abuse and neglect. We're just thrilled that he finally found his forever home with Susan!
Believer is the paint horse out in the pasture with his new pasture mates. His mother was seized due to abuse and neglect and he was born in TBAR. Now, as a well behaved three-year-old he has finally found his new home too!
Thank you to all of the TBAR volunteers that fed, cared for, and helped socialize and train these beautiful horses so they could find their forever home! And many thanks to their new families for opening their hearts and pastures!