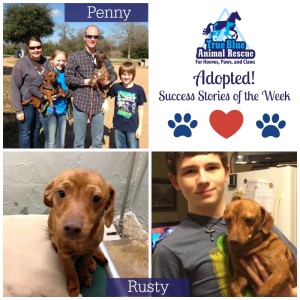 Penny was taken into TBAR when her owners could no longer keep her and she was at risk of being surrendered to a high kill rate shelter. Normally TBAR tries to work with owners to network their unwanted pets and find them a new home, but in this case there was no other option. Penny had puppies, and all of her puppies were found homes and Penny had to wait a bit longer for her perfect family to find her. Thankfully they did, and Penny is now living happily ever after with her human and doggy siblings!
Rusty was also adopted last week! Rusty was abandoned at a shelter and terrified. The shelter has a high euthanasia rate so they contacted us to see if we would take him. Luckily someone came forward to foster him. The same family quickly fell in love with Rusty and decided to adopt. You can see what bad shape Rusty was in before he went to his foster family, and how great he is doing now after their love and care helped him heal! He even has a boy of his own to play with in his forever home!
Thank you to everyone who has opened their hearts and homes to these two dogs! If you or someone you know is looking for a new furry family member, please view our dogs, cats, and horses available for adoption, and take a look at our adoption policies and procedures. We are always in need of new foster homes as well! If you have any questions, you can contact [email protected] or call 936-878-2349 and one of our volunteers will get back to you as soon as they can!