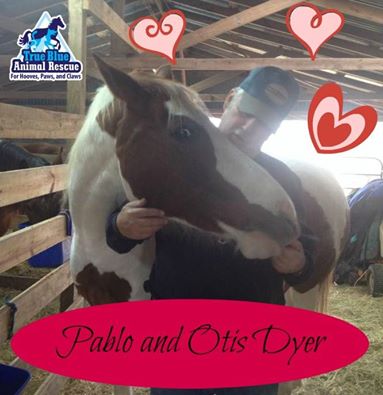 Nothing makes us happier than to hear from people who have adopted in the past and send us pictures of their rescue kids with their forever family. Here's one of those pictures that touches my heart in a special way. Pablo Redcloud aka True Seven, Picasso and Tejas came to TBAR as a baby. He went to several foster homes and was even adopted but he had some bad habits that were tough to break and he managed to out smart his people every single time. The last time he came back we sent him to Juan Vendrell for training and that helped a lot but his antics were still too much for the next adopter too. Even though Pablo was too much for them they didn't give up on this beautiful boy and sent him to another trainer. This trainer was Otis Dyer. Otis is a gifted trainer who didn't give up on Redcloud and continued working with him and eventually fell in love with him and decided to adopt him for himself. Here's what Otis has to say about Redcloud now:
I have really become fond of my rescue horse Pablo Redcloud. He has become a trusted partner and a good friend, plus a fun ride. I'm glad I was able to adopt him, we are a good fit. Thank you Dan Matula and Melanie Hewett-Deaeth for allowing me to adopt him and give him a forever home.
This story warms my heart and is a perfect expression of what Valentine's Day is all about. We get the animals out of harms way but that's only part of rescue. The true rescuer is the one who adopts and works through the difficulties a rescue animal might have and loves them unconditionally the way Otis loves Redcloud. Have a heart, adopt, don't shop. We have lots of dogs, cats and horses that need homes. Go to www.t-bar.org if you want to help rescue an animal.