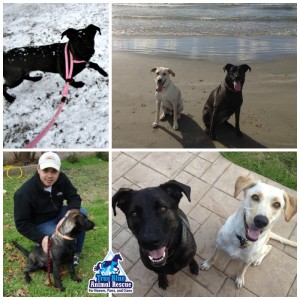 Throwback Thursday Happy Tails! We received this wonderful update from a past adopter, with an update on the dog she adopted from TBAR!
Hi All,
Below are pictures of our puppy Savannah (she was originally named Delilah), we got her from TBar in February 2010.  We first saw her at one of your adoption events at Petsmart in College Station.  
The first picture is Savannah with my husband Mike at Teresa's place where we went to see her a second time before officially adopting.  In two of the pictures she is with her brother we got from animal control in 2012.
They are both wild and crazy and so much fun but Savannah is also the sweetest little girl you will meet.  I call her my little girl, she is 85lbs, she's been such a sweetheart and blessing to our family.
Thank you for all you do!!  I couldn't image our lives without Savannah 🙂
Lacey Burey
Thank you for the update, Lacey! We love updates on the pets that were adopted from us! Seeing them so happy in their new life gives us the motivation to keep saving more and more!
If anyone else would like to share their success story, please email photos and updates to help@t-bar.org