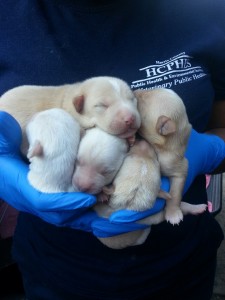 How can you work with TBAR to save an animal in need?
When possible, TBAR works with the community to network animals on our RAIN (Rescue Animals in Need) Facebook page. This posting also goes out to our networking email list, and is normally used for personal rescues when the person is able to pay the vet costs and provide shelter for the animal.
However, we do work with people who choose to volunteer their home (or find someone who is able to volunteer theirs) to take in an animal in need as a personal rescue. Sometimes there is a very time-sensitive window for people to pull animals from a shelter before they are euthanized, and the shelters will only release to an approved rescue. TBAR has the following established procedures to work with community members with their personal rescues (but please note that the TBAR officers must vote and approve the intake before this process begins):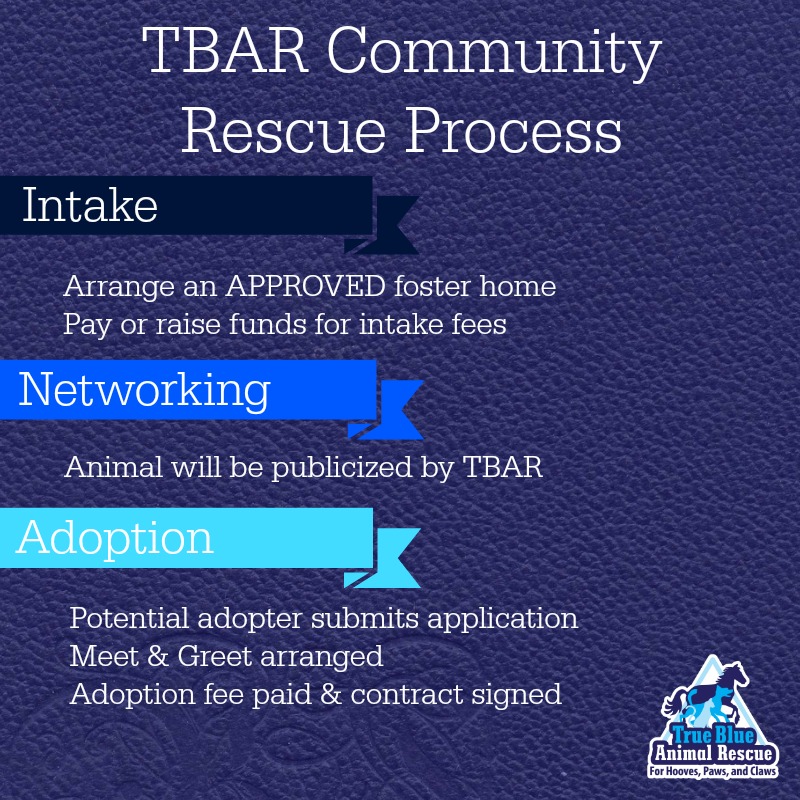 APPROVED FOSTER HOME: The person agreeing to take in the animal must have a Foster Home application on file and have standing as a TBAR approved foster home. TBAR is a no-kill animal rescue, and this means we have limited space and depend on our foster homes having availability or a new one opening before we can take in a new animal. New foster homes have to be approved by our officers because when TBAR takes in an animal we are committing to said animal that they will go to a good home that is willing and able to give them proper care and treatment while they wait for their forever home.
INTAKE FEES: There is an initial intake fee of $150 for each new dog or cat. This covers the basic vet care (including intake evaluation, shots, worming, and other needed attention). Puppies or litters of puppies cost an additional $50 per puppy for their initial shots and worming. You can donate the fee yourself, or do your own online fundraising event and ask for pledges on sites such as Indiegogo or GoFundMe (and if you raise more than the fee for that animal it can go toward existing bills or future personal intakes). All donations made to TBAR are tax deductible. Those that participate in TBAR fundraising events throughout the year do not have to raise the initial intake fee as they have already contributed.
LISTINGS AND NETWORKING: Animals taken into TBAR will be listed on our website, Petfinder and other Pet Networking sites. They may also be listed as "Pet of the Week" to gain exposure on local radio , in local newspapers, and on our Facebook page. You can also submit photos and story for the pet to be posted as a "Foster Feature" blog on our website and Facebook.
ADOPTION APPLICATION: Prospective adopters for EVERY TBAR animal must fill out and submit an application before meeting the pet so we can check references.
MEET AND GREET: Once an adopter is approved a meet-and-greet is set up. The foster home can work with the adopter to set this up and help decide if it is a god match.
ADOPTION FEE AND CONTRACT: Adopters must pay $110 adoption fee for dogs (and puppies) and $75 for cats (and kittens). This fee covers spay/neuter costs (if the pet they are adopting has not been spayed/neutered then they will be issued a certificate to cover the expense when the pet is old enough). Each adopter must sign a contract promising to care for the animal.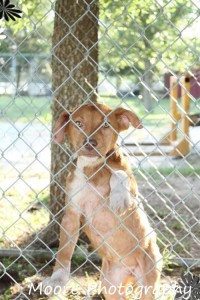 TBAR operates entirely on donations and solely out of foster homes. In order to continue to make a difference in the community we must adhere to our intake and adoption guidelines to provide the best care for our current and future animals. This ensures that we do not go over capacity and end up creating an unhealthy situation for our organization. As much as we'd like to save them all, we can only do so much, which is why we need community members to step up and become foster homes and help us with fundraising efforts!
TBAR is a 501(c)(3) non-profit organization and is a no-kill animal rescue operating in the Brenham, Texas area.  Please consider donating, fostering or adopting.  Every little bit helps us to help another animal in need of safety and rehabilitation.  Save a life: adopt instead of shop and spay or neuter your pets!