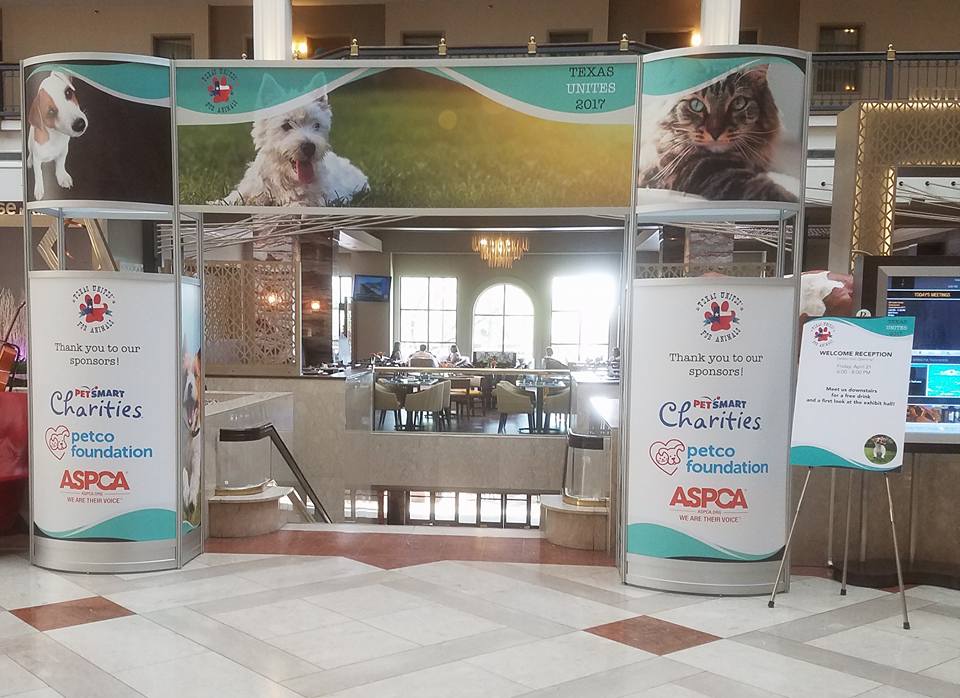 Every year TBAR members join many other animal welfare advocates at the Texas Unites for Animals conference in Austin, Texas. This year we had two members attend 10 classes over this three day event. They learned a lot about rescue, laws, foster program improvement, marketing and social media, the humane abuse / violence connection and how to manage and develop shelter or rescue structure and management.
On the lighter side there were mixers and socials every night giving us the opportunity to win prizes and meet lots of other rescuers and shelter workers.
From Amy: I attended several workshops, won some prizes, learned some valuable information, gained some knowledge about new products out in the world, got 6 free t-shirts and tons of other free goodies. There were 81 vendors this year ranging from big places like ASPCA, Petsmart, Petco, & Pet Finder and then smaller vendors that sell flea products, shelter cleaning products, t-shirts, grabbers & catchers, cages, trailers, online universities, cat products, dog products, microchips & readers, and so much more that I'm missing. Breakfast, snacks, & lunches were provided as well as discounted rates for the hotel rooms. Social events were held all 3 nights. It is a great experience to have if you've never been and lots of valuable information. Can't wait for next year when they celebrate their 10 yr anniversary.
One of the first things we'd like to implement is the new foster home ideas. We would like to invite foster homes that can't foster long term but do have a few hours or even days to give to an animal that's living in a kennel some time and attention. Do you have an hour or two on the weekend and you'd like to share some adventure with a foster pet? All approve foster homes can come to the main foster home and pick up a kennel dog and take him or her out for an adventure. What kinds of things would bring joy into the eyes of a rescue pet? A trip to the dog park, walk through a neighborhood or even some time in Petsmart picking out toys. The foster home's job would be to have fun and to take new pics of the foster pet to use in social media and newsletters to help find that one a home.
Even a few hours would be wonderful but we'd also like to encourage overnight stays and even a weekend depending on the foster home's availability.