Update: We are pleased to announce that True Blue Animal Partners with Houston SPCA! Please read the new article explaining how this great opportunity worked out!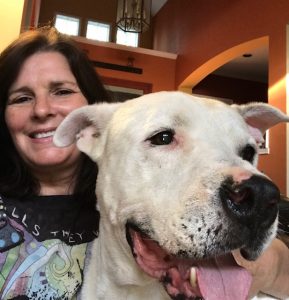 In the aftermath of the Hurricane Harvey disaster on the Texas Gulf Coast, hundreds of thousands of dollars in donations, as well as supplies, volunteers and animal advocacy groups have poured into all of the affected areas to assist with the care of rescued animals.  Alarms are being raised, however, regarding one group, the Houston SPCA, with regard to their long term plans for the fate of pit bulls and "bully" breeds rescued from the flood waters in the Beaumont area.
As Hurricane Harvey left Houston and began moving east, Beaumont, Port Arthur and Orange, TX became dangerously flooded, and rescued dogs, cats and other small animals were brought to the Ford Center in Beaumont for temporary shelter.  There, multiple rescue organizations' staff and volunteers, including Houston Pets Alive!, Austin Pets Alive!, Best Friends Animal Society and others cared for the animals as they came in.  On September 2, the Houston SPCA was granted a Memorandum of Understanding by city officials and assumed overall control and authority for operations within the Ford Center.  According to Melanie DeAeth, President and Founder of True Blue Animal Rescue, a 501c3 non-profit all breed, no- kill shelter in Brenham, TX, the Houston SPCA has long been criticized by animal advocacy groups for a lack of transparency and questionable policies regarding the adoption and placement of "pit bull type" dogs.  It should be noted that the Houston SPCA is not affiliated with ASPCA or any other SPCA in Texas.
According to the Best Friends Animal Society blog, their organization contacted Houston SPCA president, Patti Mercer and offered to assist with the care and reunion efforts of the animals being housed in the Ford Center.  The offer was declined.  When pressed, Ms. Mercer did verbally agree to at least a 30 day hold for the animals to be reunited with their owners, but declined to give any further details regarding long term plans for any animals not picked up by their owners within the 30 day holding period.  According to DeAeth, who was among those who collected supplies for the shelter and volunteered on site, there were approximately 70 pit bulls or pit bull types in the Ford Center as of Sept. 2. The fear among animal advocates is that they will be euthanized regardless of health status or temperament.
Investigative journalist, "Watchdog Mary,", Mary Schwager is posting on her Facebook page that the Houston SPCA agreed, and then declined, an interview with her. Ms. Schwager is also reporting that HSPCA declined to answer in writing a list of questions she submitted to them.
The Best Friends Animal Society is circulating an internet petition asking the Houston SPCA to guarantee a long term, life -saving commitment to the Harvey animals. As of this writing, the petition has approximately 110,000 signatures. Austin Pets Alive! has shared the petition on their Facebook page and "stands with Best Friends Animal Society . . . . . to hold the Houston SPCA accountable by committing to life saving guarantees for animals rescued from Hurricane Harvey".
As a representative of True Blue Animal Rescue, DeAeth emailed the Houston SPCA asking to become a rescue partner with them. This partnership would allow them to transfer bully breed dogs that are not claimed by their owners into True Blue Animal Rescue in the same way that they transfer dogs from many other shelters. Adding Houston SPCA to their list would give a chance to the unclaimed pit bull type dogs at The Ford Center in Beaumont, Texas.
"I love all animals", said DeAeth. "After Hurricane Katrina, I volunteered for displaced animals at the Lamar Dixon Expo Center and I rescued a litter of pit bull puppies.  I found homes for all but one male. I kept him and named him Lamar.  He is 13 years old now and the biggest goofball. Pitbulls are  wonderful dogs and they deserve a chance to find loving forever homes. That is what we want for the dogs in Beaumont."