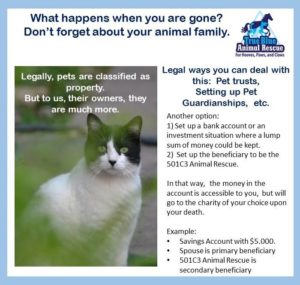 As animal lovers, we all want to care and protect our pets from any kind of possible harm, but when it comes to our own ultimate demise, we may think that including them in our will is what's best for them. Often when we leave them for a short periods of time and they may become anxious about our departure, but being gone from them permanently without our love and support is a valid concern for many pet owners.
At first we may believe that including them in our will would be enough to take care of them after our departure, but legal experts beg to differ. A blanket amount left to look after in a last will and testament is loving, generous and giving, but it doesn't include their day-to-day needs and the unknown future of your four-legged best friend. Let's look at some ways why a trust is much better for them (and you) in the long run:
The Big Three
According to the Bar Association, there are three options when it comes to protecting your pet after your departure. They include your will, a legal trust fund being put into place or a verbal agreement. For the sake of argument, an agreement with a friend, family member or other person is a definite possibility, but it still won't stand up in a legal courtroom. So for legal purposes, we'll concentrate on the differences between a will and a trust.
I Hereby Do Bequeath
When it comes to the letter of the law, pets are considered as property and not an actual member of our family. Therefore, loopholes exist with their protection and care under the legal guidelines and enforceable parts of a will. In other words, as a "piece of property," you can bequeath an animal to a friend or family member, but it doesn't guarantee their protection, care, feeding and other important parts of their life.
For example, if the party of the first part (which is you), leaves the "possession" of a pet to a sibling, friend or family member, this only means that they now own them, and have no responsibilities for their care or protection. There are no legal requirements in place that they are fed, walked, taken care of – they can even be taken to a shelter or sold without your permission.
Trust In The Law
In comparison to a statement made in a will, unlike a simple directive or order of possession, a trust can command certain requirements that include:
Payment amounts that are set into place to provide for their continued care, feeding, exercise, medical needs, without regard for ownership.
Agreements are set into place that manage a pet's health, maintenance and welfare including veterinary visits, grooming and other needs
Financial trustees can be put into place to manage assets when it comes to future finances and growth of their existing funds that were put into place for their protection
Trusts and pet agreements that are made in these legal documents also make provisions should you become incapacitated and unable to care for your companion animal. They will even ensure that your beloved best friend stays with you if you have medical issues that leave you bedridden at home for extended periods of time.
The Grey Law
In closing, if you think about the story of Greyfriars Bobby, a little dog that belonged to an entire town, rather than a single person. After the demise of his owner, a "Bobby" or policeman, protecting and patrolling the streets of Edinburgh in England, the citizens of this small town banded together to protect this little canine from being destroyed due to a lack of ownership.
According to the tale, little "Bobby," refused to leave his master's side following this policeman's untimely death and slept on his grave every night for over a decade. But during the interim, a law was passed that every dog must be licensed by an owner and since Bobby had none, the love of the local townspeople paid his fee and made them a part of their city.
This is a perfect example of how a legal precedence landed this little pooch into a safety net which was then protected by laws that stated he wasn't a stray. Instead, he was legally protected as a member of their society and community who were enlisted to care for him under the law. You can invoke this kind of trust when it comes to the care of your beloved pet.