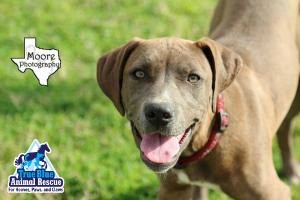 What a pretty name, Nola. And her name isn't the only pretty thing about her! Nola is very friendly and social. She loves people and she gets along with other animals. She's a beautiful girl, and would love to be someone's special fur baby. Nola is a young female, large Catahoula Leopard/ Labrador Retriever mix. She is up to date with routine shots and ready to go home with you!
If you would like to adopt an animal, or foster, please download and submit via email or regular mail an adoption application (www.t-bar.org/about/forms) so that the foster home can arrange a meet and greet with your family.
T-BAR is a no-kill rescue. Not only do we like having our animals adopted out, we also are in dire need of foster homes. That way we can help more animals out there, who are in perilous times alone on the streets. Please save a life by adopting a pet, instead of buying a pet and please have all your pets spayed and neutered. It is the right thing to do. If you are interested in learning about where you can help, or to look at all pets that are available for foster or adoption, please go to www.t-bar.org and see all of the animals that deserve a second chance and a fulfilled life full of love. Email [email protected] or call (936)878-2349 and one of our volunteers will get back to you as soon as possible. Adoption Fee: $125 (includes neuter or spay, up to date vaccinations, heartworm tested if old enough or started on heartworm prevention as a puppy, deworming and a one year TBAR membership)

Pet of the Week Posts are Written and Prepared by TBAR Volunteer, Loretta. Thanks Loretta!