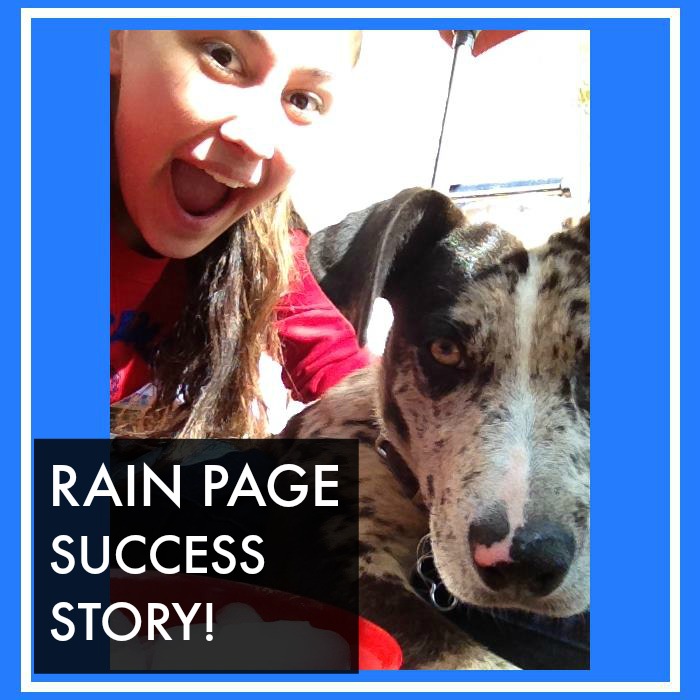 RAIN Success: Because of the networking efforts of our community on the RAIN page, we were able to help this Catahoula find a great loving home before being taken to a shelter. Her new family has named her Echo and they are all in love!
From Stacey (her adopter):
Oh my goodness… She is absolutely a dream. She's soooo good. Knows how to play fetch and brings the ball right back! She's actually pretty calm for a puppy, we are so impressed and grateful to have her as a part of our family. She's happy and very loving and fits right in. She likes to gather her toys and keep them surrounding her bed but drags this little fox we got her around in her mouth wherever she goes, so adorable. We have given her a name that seems to fit her, she even answers to it already!  "Echo" is her name! I totally believe she was meant to find us, and I'm thankful everything happened the way it did. 
She is so smart she even figured out how the iphone works to take her first "selfie" hahaha here she is with my daughter… They are inseparable. 🙂
Rescue Animals In Need (RAIN) is a referral animal networking group run by volunteers of True Blue Animal Rescue for animals in the community who have been rescued and are now looking for a forever home.
True Blue Animal Rescue gets more calls, emails and Facebook requests to take more animals than we can help. The RAIN Facebook page was created as a way to network those animals to the public in search of foster or forever homes.