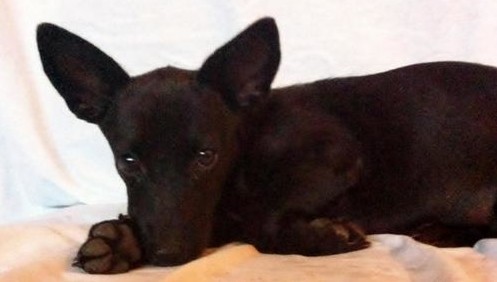 This little girl was abandoned on the side of the road with her sister, Munchkin, and another small black dog named Scooter. This little group of dumped dogs remained where they were – thinking their owner would be back for them and would take them home again.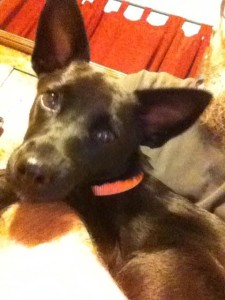 Instead, these three were lucky to be spotted by a T-Bar foster who stopped to see if they could be coerced into a crate. Pee Wee, now named Luna, was very timid, but had nowhere to go, so she let the kind soul who found her come near. Even though she didn't want to be picked up, this hungry little girl and her companions couldn't resist the canned dog food they were offered, and they ran into a crate when they smelled it. Luna, Munchkin and Scooter were then brought to T-Bar to get the vetting and care that they needed. Luna was spayed, vaccinated, de-wormed and began her search for her forever family.
With a face as cute as Luna's, it didn't take long for a family to fall head-over-heels for this sweet girl. After filling out their adoption application, the Allen family got to meet Luna and decided they could not let her go. Now our little Luna has a wonderful forever family and two other fur-kids, Ike and Tucker, to play with and love!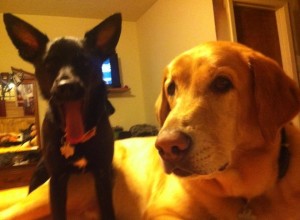 TBAR is a 501(c)(3) non-profit no-kill animal rescue organization. If you would like to help animals such as this one please consider donating to TBAR, volunteering, fostering, or adopting. Donations go directly toward care, feed, and veterinary care of the rescued animals and every little bit helps us to help another animal in need of safety and rehabilitation. Save a life: adopt instead of shop and spay or neuter your pets!
T-Bar would like to thank the Allen Family for giving Luna a loving, forever home