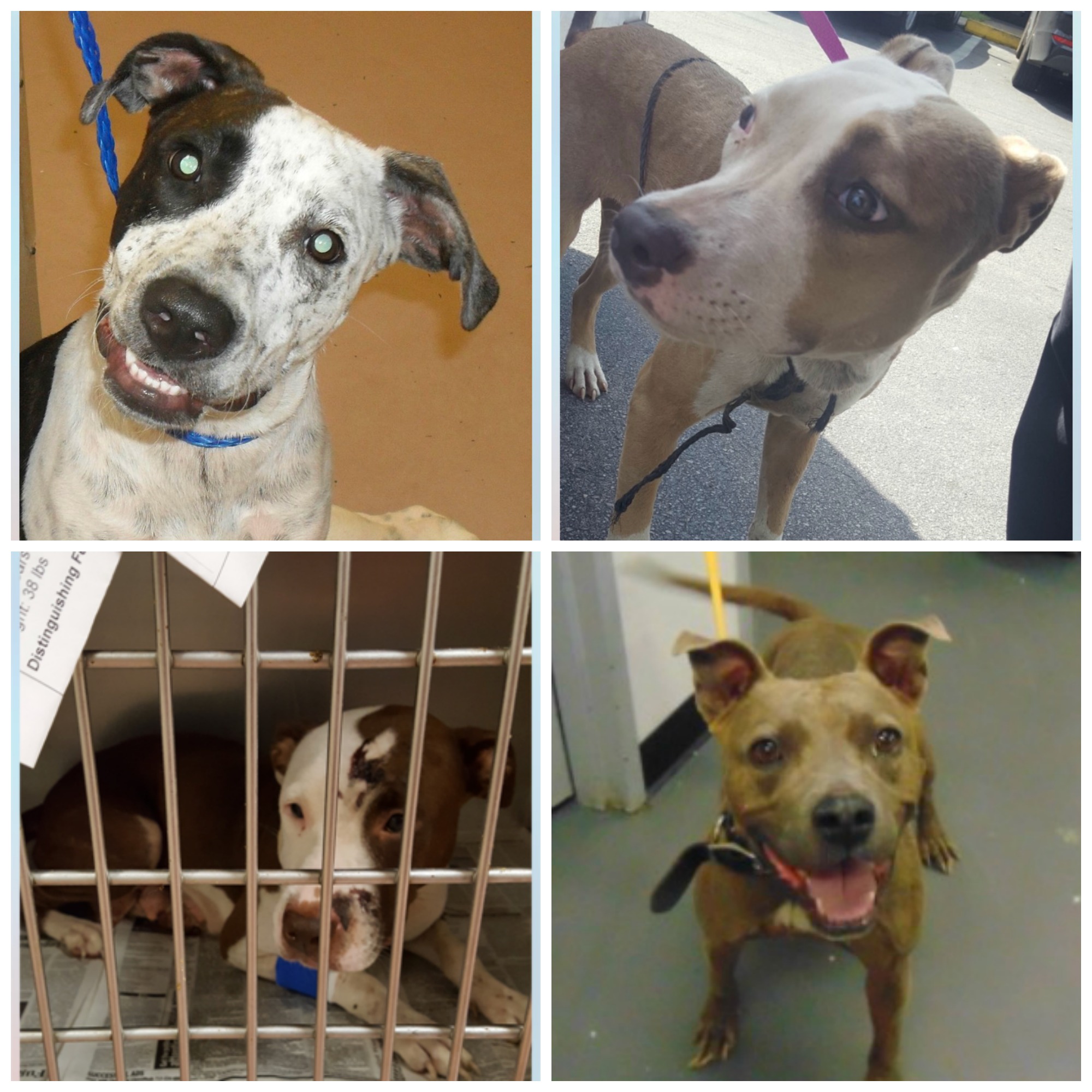 True Blue Animal Rescue submitted a request to support the Houston SPCA by transferring some dogs from their shelter into rescue on September 4th, 2017. Kylie Roach, Animal Community Coordinator for the Houston SPCA, responded on September 14 with rescue partner paperwork and an application to submit.
After submitting the application True Blue Animal Rescue was officially approved as a rescue transfer partner with the Houston SPCA on September 19, 2017. In the application the rescue requested to transfer pit bull and pit bull mix dogs, so Kylie sent pictures of four pit bull mix dogs for True Blue Animal Rescue to transfer.
Dale DeAeth, Facility Manager and Melanie DeAeth, President of True Blue Animal Rescue, drove to Houston SPCA to pick up the four dogs on September 23rd. All four dogs had been given all of their shots and were spayed, dewormed and tested for heartworms during the time that they were at the shelter. Melanie and Dale didn't ask what their policy was but it is their belief that if these dogs were going to be euthanized the Houston SPCA wouldn't have taken the time or spent the money to have these things done. Emmy, Blanca, Megan and Dottie, four gentle and friendly mix breed dogs, are now available for adoption through True Blue Animal Rescue.
Melanie and Dale have been taking in Bully Breeds since beginning True Blue Animal Rescue in 2004. Dale purchased his first pit bull in 1982, before the breed had been labeled as a vicious dog. He has always owned pit bulls since and is partial to rescuing bully breeds through True Blue Animal Rescue. He understands the challenges of caring for and adopting out this high energy terrier dog, also known as an American Pit Bull Terrier. Anyone who owns a terrier knows what a loyal, stoic and fearless dog they are. These qualities have been used against the pit bull by cruel owners who have exploited and abused them.
Bully Breeds are the hardest dog to find homes for and yet there are more bully breeds in rescue than any other. Sadly, without more options for all of these dogs, many are euthanized. Dale and Melanie were happy to be able to take in four from the Houston SPCA, doing their part to help find homes for a few more of these misunderstood dogs.
"If we want to stop euthanasia of these dogs," said Melanie, "Then we need to find them homes, and most importantly, spay and neuter all pets until the overpopulation problem is under control."
"I wish I could save them all", said Dale, "but if I take in too many I'll only become part of the problem because I can't take proper care of every pit bull that needs a home. Unless we come together as a community and stop abuse, neglect, and overpopulation we cannot save them all."