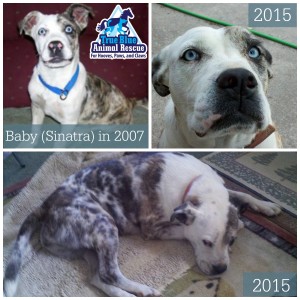 #ThrowbackThursday Success Story
TBAR found this boxer/austrailan shepherd/terrier mix as a stray, took her in, and named her Sinatra. We remember what a beautiful color pattern she had, as well as her bright blue eyes! In 2007 she found her forever home, and this week they sent us an update!
"Just a note to let you know-
This girl went home with me in May 2007. You called her Sinatra, (a terrible name for a sweet girl), so I have called her Baby ever since. She grew to a healthy 55 lb., 18-19″ tall. She is still doing fine in a big fenced yard with a male playmate of her size, a warm bed (under a heat lamp when it's really cold) in the garage and plenty to eat. She travels well, gets along with my small dogs and loves to be petted. Her blue eyes are still amazing!"
Her owners sent us this update after they received our newsletter this week. We couldn't be more pleased to received updates like this from forever homes! It warms our hearts and helps us to keep rescuing when we see the good lives these animals get to live. Our thanks for sending us the updated information on Baby!