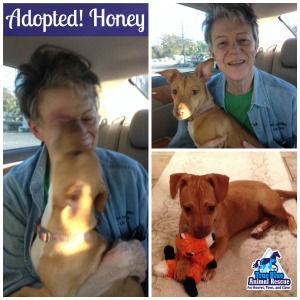 Success Story Wednesday!
Here is Honey, who has found her forever home! You can see her here showering her new mom with kisses. Any time her new mom left the car she would cry for her – she knew they belonged together!
Honey was a female dachshund mix who was rescued from a shelter by one of our TBAR volunteers. This sweet young puppy quickly earned the heart of her foster Mom's own mother, who decided to adopt Honey! It is always a great treat when a rescued dog gets to stay in the family.
Hooray for Honey! Thanks Shellie for rescuing her!