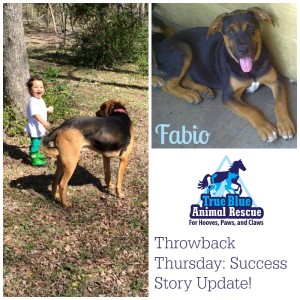 Last week we received an update on Fabio!
His family tells us:
 "I don't know if you will remember Fabio but he was debilitating shy when we first got him. I remember your husband asking me to please be patient with him. While he is still a tad shy around us and hides from strangers, he has also recognized his forever home and family! Our alpha (jealous) male still rules the roost but even he shares his garage chair with Fabio!"
We are so happy Fabio has such a great forever home! He was one of a litter of puppies who were stuffed in a plastic container and illegally dumped off in front of a country home when they were 7-8 weeks old in 2011. We couldn't be happier to hear updates like these. It gives us the energy we need to refuel our passion and continue to help animals in need!
Please send us updates on YOUR TBAR animal! Email [email protected] and we would love to feature your pet's update on our site!